begin quote from:
https://dynaimage.cdn.cnn.com/cnn/digital-images/org/ba31b3f6-4352-4911-9846-c3bc9bf394ad.jpg
February 3 coronavirus news
Our live coverage of the Wuhan coronavirus outbreak has
moved here.
5 hr 12 min ago
Washington state patient is discharged from the hospital
The first US patient to have a confirmed case of Wuhan coronavirus, a man in his 30s, has been discharged from the
Providence Regional Medical Center in Everett, Washington, the hospital said Monday in a statement.
"The patient remains in isolation at home and is being monitored by the Snohomish Health District, in coordination with his care team at Providence," the statement said. "For the privacy of the patient, we will not be disclosing the exact date of discharge or any additional details regarding his discharge process."
The patient issued the following statement: "I am at home and continuing to get better. I ask that the media please respect my privacy and my desire not to be in the public eye.
"I would like to thank the doctors, nurses, and entire team at Providence who cared for me. I appreciate all of the concern expressed by members of the public, and I look forward to returning to my normal life," the patient said.
There are now at least 11 confirmed cases of the novel coronavirus in the United States. Six cases have been confirmed in California, one in Massachusetts, one in Washington state, one in Arizona and two in Illinois. There have been two instances of person-to-person transmission – one in Illinois and one in California.
5 hr 6 min ago
The coronavirus global death toll is now at 426 people
The Hubei health authority said 64 more people died of the coronavirus in China's Hubei province on Monday, raising the death toll in the epicenter of the outbreak to 414 people.
In mainland China, 425 people have died from the virus. The official global death toll is now 426.
Authorities confirmed an additional 2,345 cases of the virus in Hubei on Monday. That brings the total number of cases in the province to 13,522.
The health authority said 10,990 patients have been hospitalized in Hubei, including 576 who are in critical condition.
There have been more than 19,000 confirmed coronavirus cases globally.
5 hr 59 min ago
California patients moved from San Benito County to San Francisco
Two patients -- husband and wife -- have been transferred from their home in San Benito County, California, to an undisclosed hospital in San Francisco, Rachel Kagan of SF Department of Public Health told CNN.
The husband had recently traveled to Wuhan, China. The wife did not, meaning she contracted the virus from person-to-person contact. The pair showed worsening symptoms Sunday night.
"It was then determined that both patients needed to be admitted to a hospital equipped for a higher level of care. The patients have been transferred out of San Benito County by specialty ambulance," said Dr. Martin Fenstersheib, San Benito County's public health officer.
The hospital is taking all appropriate precautions for patient and staff safety, said a release from SF Public Health. It added that there is no elevated risk to the public.
6 hr 28 min ago
Eleventh case of Coronavirus confirmed in Germany
A new case of the virus has been identified in the German federal state of Bavaria, bringing the total number of cases within Germany to 11, Bavaria's Health Ministry confirmed Monday.
According to the State Office for Health and Food Safety, the eleventh case was identified in a child from the district of Traunstein, who tested positive just a week after the child's father was found to have been infected.
On Saturday, CNN reported that the father -- aged 33 -- is an employee at a company in the district of Starnberg, where six other employees previously tested positive with the deadly virus.
4 hr 17 min ago
The Wuhan virus has turned China's gambling mecca into a ghost town
There isn't a single face exposed in Macao's cavernous Galaxy casino. Everyone is wearing a mask, including the croupiers, waitresses and security guards -- who happen to vastly outnumber the scattered customers gambling at blackjack and roulette tables.
The outbreak has left the free-wheeling, semi-autonomous Chinese territory of Macao shell-shocked.
Last year the city received almost 40 million visitors. Now, streets and squares once teeming with tourists from mainland China are empty. Ambulances roam the city, operated by emergency workers dressed in hazardous materials suits.
6 hr 38 min ago
What travelers need to know
Much is still unknown about the Wuhan coronavirus outbreak, and health officials are urging vigilance.
That means travelers crisscrossing the globe should be aware of the virus, steer clear of heavily impacted areas and exercise some of the same kinds of preventive measures they'd use to avoid influenza and other illnesses.
Many countries are issuing travel advisories and airlines all over the globe are canceling flights to China.
4 hr 44 min ago
Are workers in China getting paid?
Employees of many companies that have suspended operations in China should be receiving their paychecks as usual.
Following the extension of the Lunar New Year holiday because of the outbreak of
coronavirus
, China's government has reinforced labor laws that require employees to be compensated while on vacation.
Local governments have also formulated their own announcements based on the law, according to Matthew Margulies, vice president of China operations at the US-China Business Council.
Employees who have been infected by the virus will still receive compensation, added Margulies. Additionally, employees that were required to work over the extended holiday will be paid extra.
Initially set to run to January 30, the Chinese government extended the holiday nationwide to February 2. While business has now resumed in certain areas like Beijing, others like Shanghai and Hubei province are still in lockdown for at least another week.
Starbucks and McDonald's have closed all their Hubei stores indefinitely while Honda and Renault have extended the shutdown period in their Wuhan plants until February 13.
Other large companies, such as Peugeot and Toyota, have halted operations at their Chinese plants.
Webasto, an auto part company which confirmed last week that four of its employees based at its headquarters near Munich were affected by the virus, has closed its operation in Wuhan until February 14.
A spokesperson for the German company confirmed that workers would be fully paid during the closure.
7 hr 48 min ago
'If someone is sick -- that could spread.' Indian returnee describes cramped isolation camp
Over the weekend, two special Air India aircrafts brought home more than 650 Indian passengers from Wuhan.
The passengers have been quarantined in two separate camps in and around the country's capital, New Delhi.
One returnee told CNN that he was worried about being placed in close quarters with others on the flights: "There are around 20 of us in a room which is a bit scary," said Mohahammad Haseeb, a PhD student at Wuhan University's Economics department.
"If someone is sick -- that could spread. We thought we would be kept in single rooms for isolation but I understand that there isn't much space, each room has around 20 beds."
"We sit together for our meals," he added, saying they will be quarantined until February 15, when test results come back.
7 hr 13 min ago
Sudan to evacuate citizens from Wuhan
The head of Sudan's Sovereign Council gave a directive on Monday to launch an "urgent air bridge" to evacuate Sudanese nationals in Wuhan to Khartoum directly,
Sudan's state news agency SUNA reports.
Lt. Gen. Abdel-Fattah Al-Burhan, the head of the country's Sovereign Council called on Sudan's Ministry of Health to carry out all arrangements and take the necessary precautions.
He also stressed the importance of implementing the operation "as quickly as possible" in coordination between all the concerned authorities, SUNA reports.
7 hr 25 min ago
US State Department recommends that Americans in China "consider stocking up on food"
The US State Department has recommended that Americans who remain in China take precautionary measures like avoiding large groups and stocking up on food, it said in an updated security alert Monday.
"We strongly urge U.S. citizens remaining in China to stay home as much as possible and limit contact with others, including large gatherings. Consider stocking up on food and other supplies to limit movement outside the home."
"In the event that the situation deteriorates further, the ability of the U.S. Embassy and Consulates to provide assistance to U.S. nationals within China may be limited," it says.
8 hr 18 min ago
Passengers and staff on Princess Cruises ship are being screened in Japan
Japanese public health authorities are checking the passengers and crew onboard a cruise ship that docked in Yokohama, after a former passenger of the Diamond Princess ship tested positive for the virus, Princess Cruises confirmed Monday.
There are  2,666 guests and 1,045 crew aboard the Diamond Princess.
In a statement, the cruise company said the turnaround of the ship has been delayed for approximately 24 hours.
The passenger, a guest from Hong Kong, got on the ship on January 20 in Yokohama and disembarked in Hong Kong on January 25.
He visited a Hong Kong hospital six days after leaving the ship and tested positive for the Wuhan coronavirus on February 1, according to the statement.
"While on the ship he did not visit the ship's medical centre to report any symptoms or illness. The hospital reports that he is in stable condition and the family members traveling with him remain symptom-free," the statement continued.
Princess Cruises is owned by the Carnival Corporation.
8 hr 29 min ago
Canada is waiting for China's approval before repatriating citizens
The Canadian government is still waiting on permission, as well as flight manifest and document approval, from the Chinese government in order to repatriate Canadians in Wuhan, the epicenter of the outbreak, according to the Global Affairs Canada Minister.
In a Monday press conference, François-Philippe Champagne formally thanked the Chinese and Vietnamese authorities for their cooperation, adding "it is a multistep process given the complexity of this evolving situation."
He explained that a charter plane is headed to Hanoi to wait for final approvals and said that Wuhan's airspace is closed, which is why special permission is needed for a plane to land there.
He later rebuffed questions about whether the slow speed of approvals was linked to Canada's strained diplomatic tensions with China, calling the topic "inappropriate" and describing Chinese authorities as cooperative.
The number of Canadians seeking repatriation has only recently jumped from two people to hundreds, he added.
Just a few days ago we had two Canadians (asking to return) that morning who asked to be repatriated and it went from 27 to about 100 as I am saying today there are over 300 Canadians wishing to be repatriated.
Members of a standing rapid deployment team are already on the ground in Hanoi and Wuhan to help coordinate, he added.
9 hr 49 min ago
CDC says it is still waiting on invitation from China to assist with coronavirus outbreak
The US Centers for Disease Control and Prevention (CDC) says it is poised to assist China with containing its coronavirus outbreak, but is still waiting on an official invitation.
"What I can say is that we have folks ready to go to China as soon as that offer is finalized," Dr. Nancy Messonnier, director of the CDC's National Center for Immunization and Respiratory Diseases, said during a call with reporters on Monday.
"As soon as we are allowed to go, we will be there," Messonnier said. "Our presence on the ground in China will be a help."
10 hr 30 min ago
CDC working to provide virus testing capabilities across the US
The US Centers for Disease Control and Prevention (CDC) is currently working to provide diagnostic testing for the virus to health departments across the United States.
Currently, tests are only carried out in Atlanta. But the "emergency use authorization" for tests have been expedited for local testing capabilities, according to CDC officials.
"The process is extremely expedited and our colleagues at [the US Food and Drug Administration] have been working with us closely ever since we made the plan that we were going to do this in this way," Dr. Nancy Messonnier, director of the CDC's National Center for Immunization and Respiratory Diseases, said during a call with reporters on Monday.
The US Department of Health and Human Services declared the Wuhan coronavirus to be a public health emergency in the US on Friday.
On January 30, the World Health Organization (WHO) declared the coronavirus a public health emergency of international concern.
10 hr 46 min ago
Hong Kong's hospital authority urges staff to return to work and not go on strike
Hong Kong's hospital authority (HA) urged healthcare workers to return to work after they began a strike Monday in response to the government's handling of the Wuhan coronavirus.
In a statement released Monday, the HA called "all healthcare workers participating in industrial action to return to work as soon as possible to avoid further affecting public hospital services and patient treatment."
We share the same objective with our colleagues that the cross-boundary passenger flow should further be reduced to avoid the spreading of the virus. However, we disagree with compromising patient safety when expressing opinions," the statement read.
Hong Kong's main public hospital medical workers union began a strike Monday with at least 2,400 people participating in the first day, according to Hospital Authority Employee Alliance union's Facebook page.
The union previously asked the government to meet demands including stopping all travelers from entering Hong Kong from mainland China, implementing measures to ensure the supply of face masks, providing isolation wards and sufficient support for staff working in them, and investigating reports of patients escaping hospitals.
11 hr 25 min ago
CDC has investigated 260 US patients for coronavirus
The US Centers for Disease Control and Prevention has listed 260 "patients under investigation" for the novel
coronavirus
across 36 states as of February 3, according to an update posted on the agency's website Monday. That's an increase of 19 from the last update, provided Friday.
Of the 260 patients under investigation, 11 have tested positive, 167 negative, and 82 are still pending.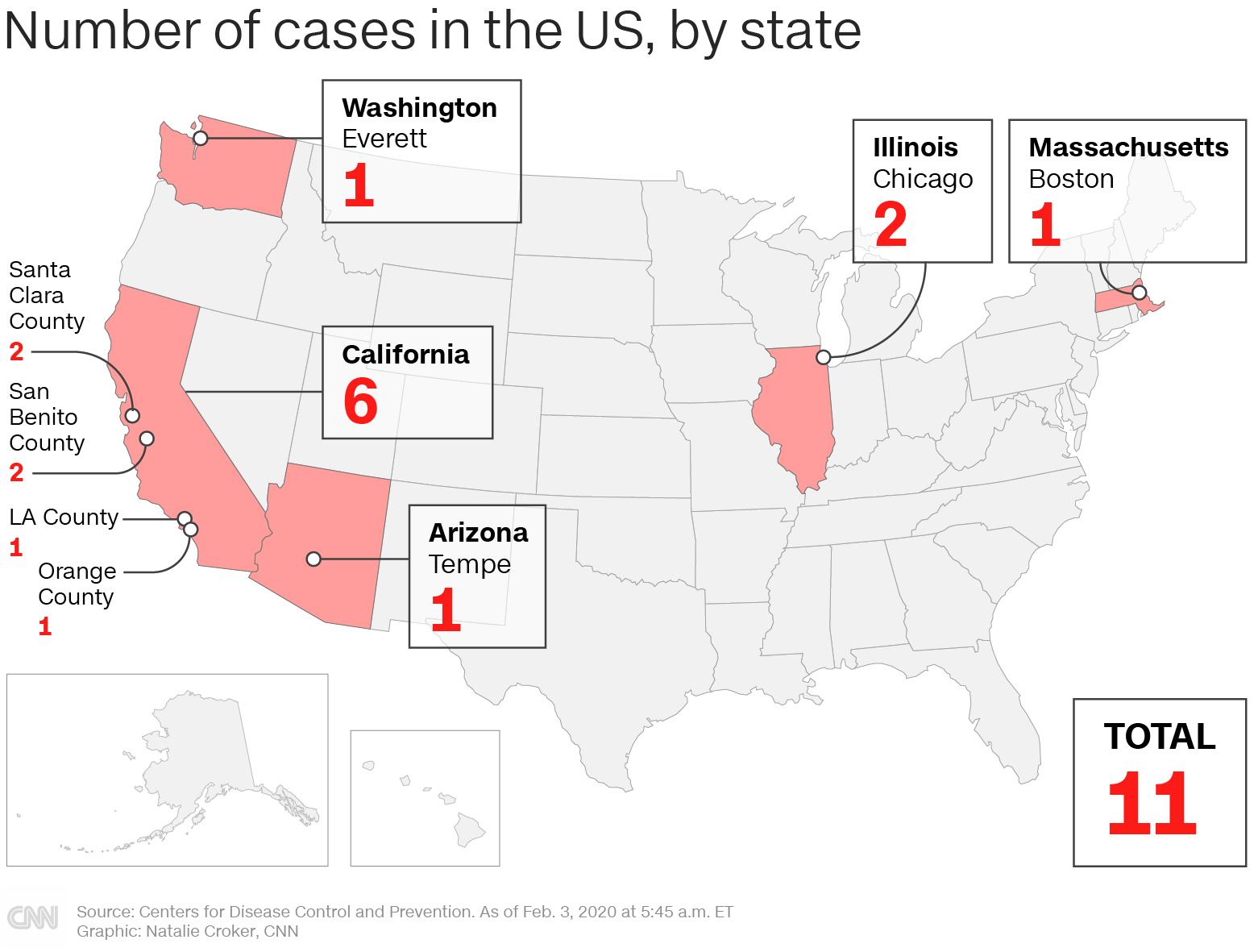 Pending cases includes specimens that have been received and not yet undergone testing, as well as those in transit to CDC from health authorities in various states.
CDC is the only lab in the US that can conduct diagnostic testing for the virus, but it is developing coronavirus testing kits to share with "domestic and international partners," according to an earlier statement from the agency.
12 hr 20 min ago
UAE suspends most flights to and from China, while Lufthansa extends restrictions
The United Arab Emirates has joined a raft of countries and companies placing restrictions on flights to and from China due to the coronavirus outbreak
The UAE will suspend all flights to and from the country (except for the Beijing route) starting February 5, the state-run Emirates News Agency reported on Monday.
Passengers travelling from Beijing will undergo a "six-to-eight hour" medical screening at the airport, the statement added.
Meanwhile, Germany's Lufthansa airline has extended its suspension of all flights to Beijing and Shanghai until February 28.
Flights to the cities were originally cancelled until February 9.
"Lufthansa Group has decided to suspend its Lufthansa, Swiss and Austrian Airlines flights to/from Beijing and Shanghai until February 28 with immediate effect," the airline said in a statement on Monday.
11 hr 30 min ago
Japan will turn away foreign nationals who have visited Hubei province
Japanese authorities will deny entry to foreign nationals who have been to
Hubei province
--- the epicenter of the novel coronavirus -- in the past 14 days, even if they show no symptoms of the virus.
On Monday, Chief Cabinet Secretary Yoshihide Suga said Japan has rejected five people under the new measure. He did not disclose the nationalities of those who were denied entry.
The measure was announced by the government on Saturday at a coronavirus task force meeting at Prime Minister Shinzo Abe's office. Abe called it "an extraordinary measure."
Holders of Chinese passports issued in Hubei are also banned from entering Japan.
Japan has 20 confirmed cases of the virus.
12 hr 52 min ago
Pakistan resumes China flights
Pakistan has resumed direct flights with China for all Chinese and Pakistani airlines after further review following a suspension on Friday due to the coronavirus outbreak.
According to Pakistan's health ministry, Standard Operating Procedures have been set up to deal with the virus at the airport. Pakistan currently has no confirmed cases of the coronavirus in the country.
13 hr 25 min ago
CNN's Ivan Watson boards Macao-Hong Kong ferry as service is suspended
CNN's Ivan Watson caught one of the last ferries running between Hong Kong and Macao after the Hong Kong city government announced it is suspending the service as of midnight local time Monday as part of the effort to stop the spread of the deadly coronavirus.
On Monday, Hong Kong leader Carrie Lam announced new border closures, amid intense public pressure to stop anyone crossing into the city from mainland China.
Lam said further measures were being taken "to ensure the control of the boundary control points to reduce people movement across the border," but fell short of completely sealing off the city.
11 hr 17 min ago
Hong Kong health workers expand strike actions
Hong Kong's hospital union will expand its strike on Tuesday, following a breakdown in negotiations with the government and the organization on Monday night.
The expanded strike actions will now include all members of the union willing to go on strike as opposed to the strike on Monday which was only comprised of non-emergency personnel.
The union previously asked the government to meet demands including stopping all travelers from entering Hong Kong from mainland China, implementing measures to ensure the supply of face masks, providing isolation wards and sufficient support for staff working in them, and investigating reports of patients escaping hospitals.
After Chief Executive Carrie Lam's press conference on Monday, union spokesperson Winnie Yu said the ports that remain open in Hong Kong – the International Airport, Shenzhen Bay, and Hong Kong-Zhuhai-Macao Bridge – still account for nearly 60% of all inbound mainland travelers.
Yu added that under Article 27 of the Hong Kong Basic Law residents shall have freedom of speech and the right and freedom to form and join trade unions, and to strike.
11 hr 18 min ago
Vatican sends hundreds of thousands of masks to China
The Vatican has shipped hundreds of thousands of face masks to the Chinese provinces of Hubei, Zhejiang and Fujian in response to the coronavirus outbreak.
In a statement issued to CNN, Vatican spokesman Matteo Bruni said that the masks were sent "to help stop the spread of the contamination of coronavirus."
The initiative comes from the Office of Papal charities, the Chinese Missionary Center in Italy, with the help of the Vatican Pharmacy. The statement did not provide with a specific number of masks nor with specific dates.
14 hr 26 min ago
Here's the latest on the novel coronavirus
The death toll from the
Wuhan coronavirus
has topped 360, and authorities in China and across the world are working to contain the disease.
If you're just joining us, here's the latest:
The casualties: 362 people have died, with the first death outside of mainland China confirmed in the Philippines. There are well over 17,000 confirmed cases in mainland China, and more than 180 cases in 25 countries and territories spanning North America, Europe, Asia and the Middle East.
Accelerating spread: The number of Wuhan coronavirus deaths in mainland China has overtaken the 2003 severe acute respiratory syndrome (SARS) epidemic in the country, in a matter of weeks. The 2003 outbreak of SARS -- another coronavirus strand -- infected 5,327 people in mainland China, with 349 deaths.
China's response: On Monday, China's Foreign Ministry criticized the US response to the outbreak, accusing Washington of feeding mass hysteria.
Hong Kong closes more borders: Hong Kong leader Carrie Lam on Monday announced new border closures over the Wuhan virus, amid intense public pressure to stop anyone crossing into the city from mainland China. Lam said further measures were being taken "to ensure the control of the boundary control points to reduce people movement across the border," but fell short of completely sealing off the city.
Economic pain: With much of China's economic heartland still closed, concerns are growing over the impact to its economy. The Shanghai and Shenzhen stock markets -- which have been closed since January 24 -- plunged by around 10% on opening Monday.
15 hr 28 min ago
Airlines continue to suspend flights over virus outbreak
Since the outbreak of the virus, many international airlines have made significant changes to their flight schedules to China, or canceled flights altogether.
Who has suspended flights? Major international airlines such Air Canada, American Airlines, British Airways, Delta, Lufthansa and Qatar Airways have already suspended all flights to and from mainland China until the end of February or longer.
Who is implementing travel restrictions? A growing number of countries, including the US, Australia, New Zealand and South Korea, have begun barring entry to all foreigners who have traveled to mainland China, with Italy and Israel stopping all incoming air traffic from the country. Many more countries have told their citizens not to travel to mainland China.
13 hr 20 min ago
11 cases of coronavirus in the US
16 hr 6 min ago
Vietnam confirms its eighth case of the coronavirus
Vietnam has confirmed an additional case of the Wuhan coronavirus in the province of Vinh Phuc, bringing the total number of confirmed cases in the country to eight.
According to state broadcaster VTV, the latest case involves a Vietnamese national who returned home from Wuhan on January 17. The patient then had her samples taken for testing by the Ministry of Health on January 31, and officials confirmed that she had tested positive for the coronavirus on Monday.
Here's where else the virus has spread:
16 hr 11 min ago
29 Mexican students repatriated from China studies
Two groups of Mexican students studying in China have returned home without symptoms of the Wuhan coronavirus, according to statements from the state of Guanajuato.
The groups consisted of 18 people who returned Saturday and 11 people who landed Sunday. In total there were 52 Guanajuato students studying in various Chinese cities -- all are expected to return by February 5, one statement said.
In compliance with World Health Organization protocols, health authorities will contact the students for the next two weeks to monitor any symptoms.
16 hr 34 min ago
UK gives $26 million to fund vaccines for coronavirus and other diseases
The UK Government has pledged £20 million ($26 million) to develop new vaccines for
coronavirus
and other infectious diseases, the UK Department of Health and Social Care announced Monday.
It will help our globally recognised vaccine development capabilities continue to develop new defences against emerging diseases including coronavirus," UK Health Secretary Matt Hancock said in a statement.
The new funding will go to the Coalition for Epidemic Preparedness Innovations (CEPI), which was originally formed in response to the Ebola epidemic in West Africa. It will help with three new programs to develop vaccines against the novel coronavirus, 2019-nCoV, the statement said.
Dr Richard Hatchett, CEO of CEPI said he hoped that an investigational vaccine could be through to clinical testing in 16 weeks
The rapid global spread and unique epidemiological characteristics of the virus are deeply concerning," said Dr. Richard Hatchett, CEO of CEPI, who added: "Our hope is that, with our partners, we can get an investigational vaccine from gene sequencing of the pathogen through to clinical testing in 16 weeks. The earliest stage of clinical trials (Phase I), to establish the safety of investigational vaccines, would take around two to four months."
16 hr 55 min ago
Russia may deport foreigners with coronavirus
Russia may deport foreign nationals if they have
coronavirus
, Prime Minister Mikhail Mishustin announced Monday, according to Russian state news agency TASS.
TASS cites a federal law stating that a foreigner can be deported if their presence poses a real threat to public health.
Mishustin said that a national plan to prevent the spread of the coronavirus infection in Russia has been signed, and the virus has been added to the list of highly dangerous diseases.
It will allow us to deport foreigners if they are diagnosed with this disease and introduce special restrictions, including isolation and quarantine," the Russian prime minister said.
There are two confirmed cases of coronavirus in Russia, and the country has already closed its entire Far East land border to prevent the spread of the disease.
TASS reported that the movement of Chinese nationals through Russian territory has been restricted, and that those diagnosed with the disease have been isolated and are receiving the necessary treatment. Mishustin added that Russia has stopped issuing work and group tourist visas to Chinese nationals for the time being.
16 hr 56 min ago
China declines to comment on delay of US evacuation flight
The Chinese government on Monday declined to comment on the delay of the second US evacuation flight to the epicenter of the coronavirus outbreak, after slamming Washington's response to the epidemic as an overreaction that fanned global hysteria.
When asked by CNN if the delay of the charter's arrival in Wuhan is related to Beijing's displeasure over the US response, Chinese Foreign Ministry spokeswoman Hua Chunying said: "The US was the first to evacuate its consulate staff in Wuhan via charter flight. Relevant arrangements must be coordinated based on a variety of factors including Wuhan airport capacity to receive supplies."
Hua confirmed that China has said it welcomes the US to join the World Health Organization (WHO) expert team on the outbreak and the US has submitted a list of names to the WHO.
In a globalized world, the destinies of all countries are closely linked. In the face of a public health crisis, countries should work together to overcome the difficulties, rather than resort to beggar-thy-neighbor practice, let alone take advantage of others' difficulties," she said at a press briefing Monday.
Last Wednesday a chartered plane carrying some 200 US citizens -- including about three dozen diplomats and their families -- arrived at March Air Reserve Base in Southern California.
18 hr 22 min ago
56 Italians repatriated on flight from Wuhan
A flight carrying 56 Italian nationals from Wuhan, China, landed at Pratica di Mare military airport, outside of Rome, on Monday morning.
The passengers will undergo medical examinations at the airport before being transported to a military compound on the outskirts of Italy's capital. The people are scheduled to remain in isolation at the facility for 14 days.
As of now, no one in the group has shown any symptoms of coronavirus, Health Ministry spokesman Nicola del Duce told CNN.
16 hr 55 min ago
Hong Kong announces further border closures over Wuhan virus
Hong Kong leader Carrie Lam on Monday announced new border closures over the Wuhan virus, amid intense public pressure to stop anyone crossing into the city from mainland China.
Lam said further measures were being taken "to ensure the control of the boundary control points to reduce people movement across the border," but fell short of a complete sealing off of the city.
Lam said the main land borders at Lo Wu and Lok Ma Chau would shut as of midnight tonight, as would the Hong Kong-Macau Ferry Terminal.
That will leave all but three border crossings between Hong Kong and mainland China closed. Those which remain open are the city's international airport, the Shenzhen Bay border and the Hong Kong-Zhuhai-Macau bridge.
Lam's announcement comes after health workers in Hong Kong began a five-day strike on Monday, demanding a full border closure and greater support from the government.
"This has nothing to do with the five-day strike by healthcare workers," Lam said, however. "If anyone thinks that by resorting to such extreme measures the government will be made to do something that is not rational or something that will only harm the public they will not get anywhere."
The number of Chinese citizens entering Hong Kong has fallen since the initial closures, the government said earlier, with the vast majority of those continuing to cross the mainland border being Hong Kong residents. It is unclear how the new closures will affect those who work in the city but live across the border, and vice versa.
19 hr 2 min ago
G7 to hold phone conference on tackling coronavirus
The G7 nations will hold a joint telephone conference to discuss how to deal with the
coronavirus outbreak
, German Health Minister Jens Spahn announced after talking with his American counterpart Alex Azar on Sunday.
A call will take place at 9 a.m ET on Monday, according to a spokesperson for the Italian Health Ministry.
The G7, a group of seven leading industrialized democracies, includes Canada, France, Germany, Italy, Japan, the United Kingdom and the United States.