Mon, Mar 06, 2023
begin quote from:
https://www.newsweek.com/californians-plea-help-after-rare-snow-entraps-san-bernardino-mountains-1785854

Californians Plea for Help After Rare Snow Entraps San Bernardino Mountains
Southern California residents have been struggling to access supplies or leave their homes since a rare snowstorm hit the area last week.
AccuWeather senior forecaster John Gresiak said snowstorms with consistently cold weather are rare for the region, and some areas may lack the proper equipment needed to clear the roads.
Cal Fire reported they had been busy delivering care packages and evacuating people while a Crestline grocery store suffered a collapsed roof from the snow.
A second storm is expected to hit the area later this week, bringing warm air and the risk of flooding.
Southern California residents are desperate for aid as they continue to battle lingering effects from a rare snowstorm that hit late last week.
The San Bernardino Mountain region was hit with a storm last week that elicited the National Weather Service's (NWS) first-ever blizzard warning in Los Angeles County. Many sea level cities avoided snowfall, however some people residing higher in the mountains are still struggling to access supplies or leave their homes.
AccuWeather senior forecaster John Gresiak told Newsweek on Monday that the rare storm combined a "good deal of moisture" with very cold air, which were ingredients to create the storm in a place where it wouldn't normally happen.
Gresiak added that snowstorms with consistent cold weather are rare for Southern California, and some areas may lack the proper equipment needed to clear roads. As temperatures have remained cold, some people are still stranded without access to supplies, especially those residing at higher elevations. Gresiak said snowfall ranged from a few inches to over a foot.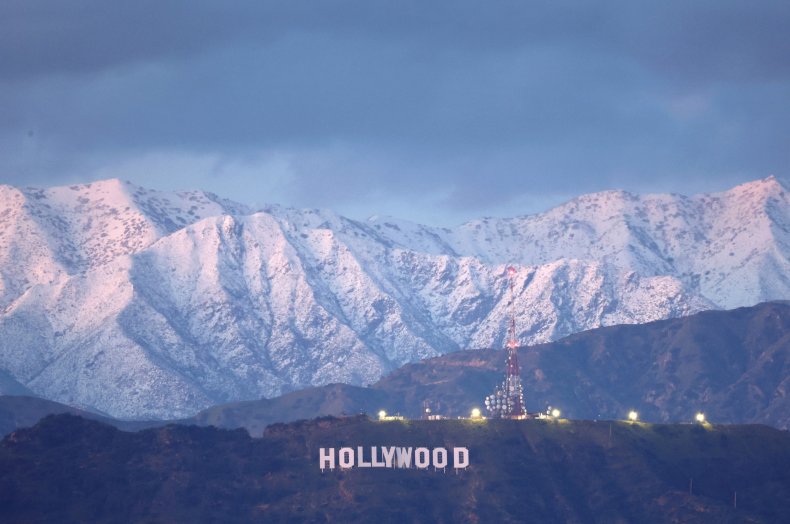 Local news station ABC7 reported that one of its sister station's helicopters flew over Lake Gregory near Crestline, California, late last week and saw a large message reading "HELP US!!" etched into the surface of the snow.
Meanwhile, Cal Fire tweeted Sunday that its departments had been busy for several days because of the storm.
"E3363 located a family in need of diapers & baby food and hiked 3/4 of a mile in the snow to deliver the care package. Together a total of 165 residents in Crestline have been contacted to ensure that gas meters, driveways and vehicles are accessible & free of snow, medical issues are addressed and meals distributed," Cal Fire San Bernardino wrote on Twitter.
It added: "Firefighters were able to safely evacuate 8 residents yesterday taking them to Goodwin's Market where the San Bernardino County Sheriff's Deputies shuttled them to the Red Cross Shelter. Approximately 30 cases of meals were distributed to residents in need, 1 resident was evaluated and ultimately transported by ground ambulance to a local area hospital."
Those who could escape their homes and venture out for supplies faced closed businesses, such as Goodwin and Son's Market, a Crestline grocery store, which had its roof collapse from the heavy weight of the snow, KTLA reported.
Despite the rare winter storm having passed, Gresiak told Newsweek some people are still battling the effects from the storm as the weather hasn't warmed up enough to melt the snow.
Warmer air is anticipated to arrive to the area with a second storm later this week, but it may not be the respite residents need. The warm air is expected to bring more rain, and melt the remaining snow at an increased rate, risking floods. The warmer storm is forecast to hit the region Thursday night into Friday morning.