begin quote from:
In Asia Pacific the climate crisis is happening now

,

not in the future

. By Helen Regan, CNN. Updated 3:31 AM ET, Tue December 24, 2019. How to save the ...
Web results
2 days ago -

But while many people in developed countries see the

climate crisis

as an urgent but

future

problem, for millions living

in Asia

-

Pacific

, ...
In Asia Pacific the climate crisis is happening now, not in the future

Updated 3:31 AM ET, Tue December 24, 2019
Hong Kong (CNN)The world's most disaster-prone region felt the harsh reality of the climate crisis in 2019.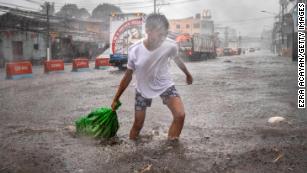 Far from being anomalies,
scientists say
the climate crisis is causing more extreme weather events -- and it's having devastating consequences in Asia and the Pacific.
"This is a sign of things to come in the new climate reality."
Rallying calls for climate action have been made in countless forums, summits and pledges this year.
Those on the front lines say words must now translate into tangible change as the world heads into a new decade.
The Asia-Pacific region, home to 60% of the world's population, is one of the most vulnerable areas to the climate crisis.
Many big Asian cities, including Mumbai, Shanghai, Bangkok, Ho Chi Minh City, and Jakarta, are coastal and low-lying, making them susceptible to sea level rise and other extreme weather events.
As material wealth grows, so too does the consumer market and demand for emissions-producing conveniences such as air-conditioning, cars and disposable goods.
As a resident of the low-lying Pacific Island of Samoa, Tagaloa Cooper-Halo has experienced climate changes first hand.
Diets have already changed as ocean acidification and coral bleaching have reduced fish stocks, she said.
"When resources are not as plentiful as they used to be, it changes your dependency, you become more dependent on processed food and therefore we have to import a lot of processed food so it changes the way that we eat, and it therefore affects our health," Cooper-Halo said.
Sustento lost both her parents, her eldest brother, sister-in-law, and her young nephew in the storm -- one of the most powerful ever recorded.
"Whenever an extreme weather event happens, we lose our basic human right to safe, decent, and dignified life."
The high economic cost of typhoons can cripple poor countries.
Sustento said fossil fuel companies also need to do their part -- by speeding up the shift to renewable energy.
"We should not allow the fossil fuel industry to continue with business as usual, while we are left with no choice but to live with the 'new normal', to count our dead, to search for the missing, and to fear for our future," she said.
As the climate crisis makes rainfall and the annual monsoons -- vital for the region's agriculture -- more erratic, droughts and water shortages will become more severe.
"We have an economy where there's a population that's growing and industry that's growing. So you need 40% more water for industry, you need more water for more people. You need more water for everything," said Jyoti Sharma, founder and president of FORCE, an Indian NGO.
In India, proper urban planning and development will be the way forward, according to Sharma.
"Make water systems more efficient, make taps and faucets, irrigation systems more efficient. I think that's what will save us from the crisis ahead," she said.
Those impacted by the crisis in Asia don't have another decade for the rest of the world to get this right.
Surrender is not an option, said Cooper-Halo.
In "the Pacific, the public has woken up to this reality for many years now," she said. Now, countries need to catch up and step up.