Another day, another unprecedented moment in Donald Trump's presidency. A giant inflatable chicken with Trump-like hair appeared near the White House on Wednesday. The chicken …
POLITICS
Monumental 'Trump Chicken' Roosts Near The White House
Inflated rhetoric:
🐔
🐔
🐔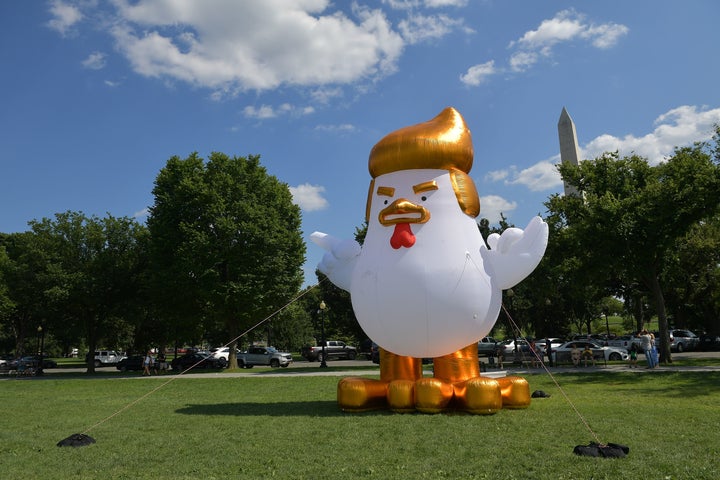 Aerial photos of the display show the fowl, known as "Trump Chicken" or "Chicken Don," standing on the plot of land south of the White House called the Ellipse.
The area is situated between the president's residence and the Washington Monument. It's also in perfect view of the news cameras that are placed in front of the White House.
The balloon was set up by documentary filmmaker Taran Singh Brar to protest the president "being a weak and ineffective leader."
He added that the president was "playing chicken with North Korea."
The filmmaker also confirmed that he obtained the necessary permits to display the 30-foot balloon.
When images of the chicken first surfaced Wednesday afternoon, news anchors were understandably perplexed. Fox News host Shepard Smith could not hide his surprise.
"What, what is that?" he asked his colleague Josh Lederman.
"Shep, it appears to be a very large chicken display," Lederman said.
"A what?" Smith asked. "Seriously?"
The chicken was set up in the morning and it wasn't long before spectators flocked to the display, both on foot and via Segway.
ALSO ON HUFFPOST
A Brief History Of "Trump Chicken"