begin quote from:
Yemen cholera death toll climbs to 1500 as WHO issues stark warning new cases have multiplied tenfold
The Independent
7h ago
Yemen cholera death toll climbs to 1,500 as WHO issues stark warning new cases have multiplied tenfold
World Health Organisation says war-torn country is currently dealing with up to 5,000 new diagnoses a day

Click to follow
The Independent Online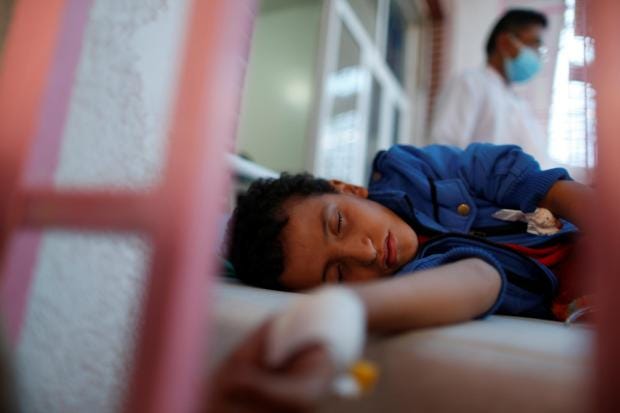 The death toll has risen from the 1,300 announced last month, when the number of suspected cases was around 200,000, and there are now 5,000 new diagnoses a day.
The new figures show the disease has multiplied tenfold in the last two months, Nevio Zagaria, WHO's representative in Yemen, said at a news conference over the weekend, and now affects 21 of the country's 22 provinces.
The first outbreak in the country was confirmed in October 2016, but by May new cases were being diagnosed at a rate three times higher than six months ago. Aid organisations warned last month that the epidemic was spreading like wildfire, with almost one person an hour dying from the water-borne infection.
Cholera – an acute diarrhoeal infection caused by ingestion of contaminated food or water – can kill the young, elderly and otherwise sick in hours if vital fluids are not replaced.
A quarter of the dead so far are children, the UN health agency said.
health
, water and sanitation systems are on the verge of collapse, making the epidemic very difficult to treat.
Saudi Arabia
and its regional partners have
used
the spectre of Iran to justify an extensive bombing campaign on Yemen's Shia Houthi rebels at the request of the exiled, internationally recognised Yemeni President Abdrabbuh Mansour Hadi.
The Saudi economic strangulation, blockades on Yemen's air and seaports preventing the import of food and medicine and the targeting of vital infrastructure such as roads and bridges – and in some cases civilian buildings such as hospitals, and funeral gatherings – have contributed to the dire situation the country's 27-million-strong population is now facing.
Less than half of Yemen's medical centres are still functional. A total of 14.5 million people don't have regular access to clean water and 7.3 million live on the brink of famine.
The UN estimates $2.1bn (£1.6bn) is needed to bring Yemen back from the brink of state failure, but donor governments only pledged half that amount at an aid conference in Geneva in April.
More than 10,000 people have died in the fighting to date, the UN says.