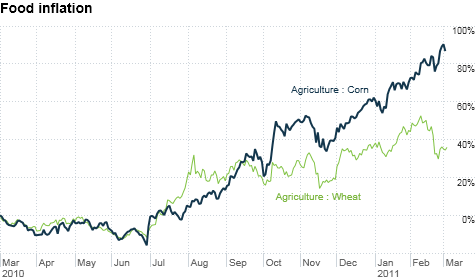 NEW YORK (CNNMoney) -- Food prices worldwide continued to rise in February, and the recent spike in oil prices could push food costs even higher in the months ahead, according to a report from the United Nations.
The food price index, which measures prices for a basket of food commodities, rose 2.2% last month, according to the UN's Food and Agriculture Organization. The index has increased for the last eight months in a row, and is at the highest level since it was created in 1990. end quote from below URL
http://money.cnn.com/2011/03/03/news/economy/food_prices/
Since Coffee is up 100% Wheat is up 60% and corn is up 80% just in the last year this is not good news for the worlds poor or for anyone for that matter.