begin quote from:
Chinese stocks fell, with the benchmark index heading for its lowest close since mid-January, as investors shrugged off government efforts to limit the market impact from tighter financial …
China Stocks Hold Losses as Traders Assess Regulatory Crackdown
Bloomberg News
Hong Kong shares slide as city's markets reopen after holiday

Mainland equities have been among the world's worst performers
Chinese stocks fell, with the benchmark index heading for a third day of declines, as investors weighed government efforts to limit the market impact from tighter financial market regulations.
The Shanghai Composite Index dropped 0.1 percent to 3,133.21 at the midday break, taking its decline from an April high to 4.7 percent. Commodity producers led losses after metal prices tumbled the most since November. HSBC Holdings Plc rose 0.5 percent before it announces earnings. The Hang Seng Index slipped 0.5 percent as Hong Kong's markets reopened after a holiday, while an index of Chinese shares traded in the city sank 1 percent.

Chinese shares are among the world's worst performers this month and bond yields have climbed to the highest levels since 2015 as regulators overseeing banking, insurance and securities trading issued a flurry of directives, targeting everything from excessive borrowing to speculation in equities. The central bank-run Financial News urged stock investors not to overreact in front-page commentary Wednesday.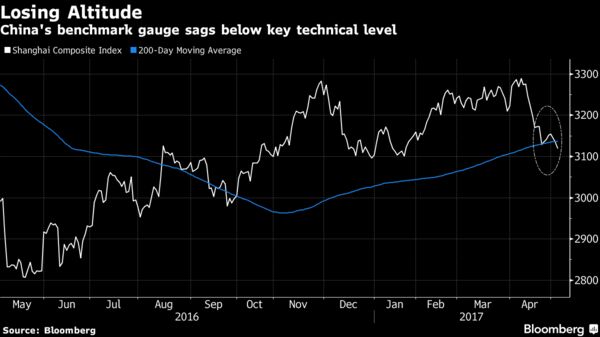 "The Shanghai Composite is unlikely to fall below 3,100 points in the near-term," said Dai Ming, Shanghai-based fund manager with Hengsheng Asset Management Co., citing expectations of a relatively stable economy and confidence that regulators will monitor market sentiment as they roll out reforms. "The government may come in to intervene on stocks, but only if the market drops sharply and triggers widespread panic among investors, which is not so likely in the near term."
The Shenzhen Composite Index rose 0.4 percent as overseas investors put a net 1.03 billion yuan ($149.4 million) into the city's equities through a trading link with Hong Kong, on track for the biggest daily buying spree since April 5.
Materials stocks were among the worst performers on the CSI 300 Index, with Zhongjin Gold Corp., Aluminum Corp of China Ltd. and Jiangxi Copper Co. falling at least 2.4%.
Fullshare Holdings Ltd. rose as much as 17%, its largest intraday gain since July 2015. The stock resumed trading after being halted on April 25 following the release of short-seller Glaucus Research's critical report, which sparked a 12% tumble.
Guangzhou R&F Properties Co. and China Evergrande Group led declines in Hong Kong-traded Chinese developers, dropping at least 4.1%. Beijing branches of some banks had raised mortgage rates for home purchases from May 1, Xinhua News Agency reported Tuesday. "Investors worry that cities like Shanghai may follow suit with property controls after Beijing's tightening," said Jiang Yining, Shanghai-based analyst with Capital Securities Corp.
— With assistance by Amanda Wang